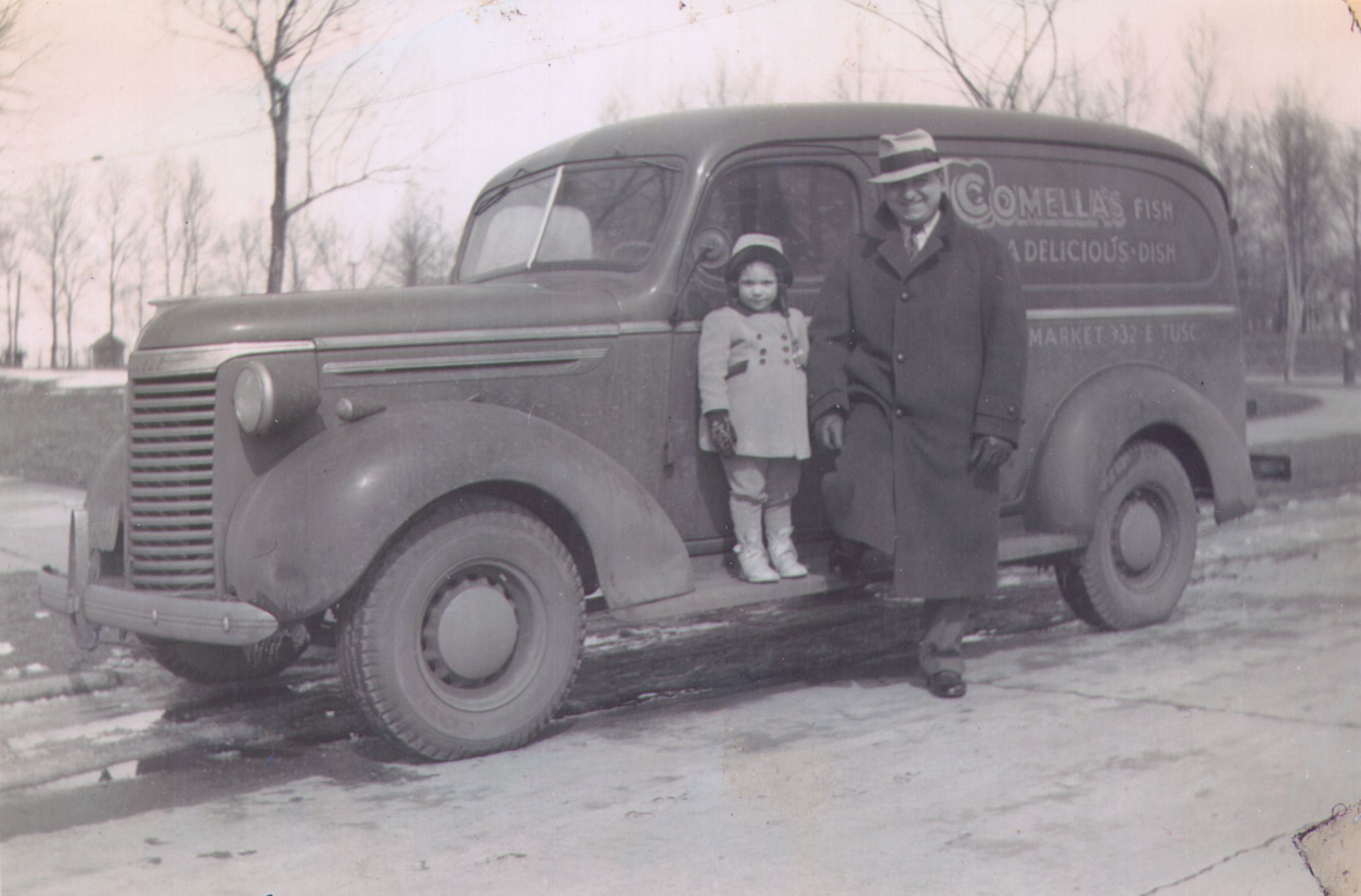 Euclid Fish Company was founded in 1944 by Chef John Comella, and his wife, Betty Comella. Prior to the Euclid Fish beginning, John had always worked in the "foodservice" business. He worked for WM Edwards Company based in downtown Cleveland, sold hot cream waffles on Cleveland's East Side neighborhoods, worked on Lake Erie fishing boats, sold clams and oysters from horse drawn wagons and catered fish fries, roast beef dinners, spaghetti dinners and many other food events for greater Cleveland organizations and churches. In 1944, Chef Comella started the business by catering clambakes out of his Hiller Avenue home in Cleveland, with his wife Betty's help, until they purchased a building for a retail store on East 185th Street in Euclid. Euclid Fish first became known for their clambakes that they both catered and provided as take home options. This tradition is something that we still carry on today and continue to grow each and every year!
Through the years, John and Betty's three kids helped out at the market; however their only daughter, Marilyn truly fell in love with the business (and with a gentleman who worked there as well, Charles L Young.) Charles and Marilyn later married and continued working at Euclid Fish where they learned the business both inside and out. Once John retired, Charles took over the business and grew the company into both a wholesale distribution company and retail market. It was at this point that they decided to build a state of the art facility, constructed to exacting specifications and standards. As Charles and Marilyn continued to grow the business, they began to grow their family as well. As generations prior, their kids helped out at Euclid Fish through their middle and high school years.
Charles and Marilyn's son, John C. Young, went to college and upon graduating, accepted a job at a seafood company in LA. After several months, John returned to the company to help grow the family business. John C. Young soon became the president and later, the owner of Euclid Fish Company with his wife Terrie Young. His sister Susan Lanese began working at EFC in high school and is currently the office and customer service manager. John carried out his father's and grandfather's vision while also expanding product lines and delivery lanes. Euclid Fish is now a leading distributor with not only the freshest seafood, but also center of the plate meats, poultry, bread, appetizers, desserts, and gourmet specialties under the Euclid's Finest Label.
It doesn't stop there… say hello to the fourth generation! Charles and John V. both grew up at Euclid Fish, and worked through their middle and high school years prior to college. Whether it was cleaning the dock, processing orders, helping in the market or answering the phones, they knew their passion lied within the industry. They both went to college and post-graduation, found their way home to Euclid Fish. Charles L Young is the current VP of Sales, residing in Pittsburgh, where he is also growing the distribution channels throughout western PA. John V Young is the current VP of Operations, focusing on plant processes, purchasing, and our sustainability program.