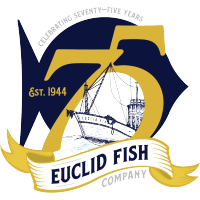 Euclid Fish Company committed to sustainability from the very start in 1944. Being four generations strong, we have understood that this commitment is a responsibility. Since our company's inception, our founder, John Comella, cherished every fish he caught, bought, ate, and sold. Being a harvester first, John Comella loved seafood; he yearned to learn about the species and the fisheries he was a part of and supported in the Great Lakes and other USA fisheries. Taking what he had learned from water, spreading seafood education became his main goal. He taught the local community how to cut, clean and cook all varieties of seafood where it soon became contagious to his family, spreading to his daughter Marilyn and later son-in-law, Charlie Young.
The second generation fully understood and expanded our founder's beliefs, while becoming charter members of NFI (National Fisheries Institute). Charlie and Marilyn grew the business and created strong relationships in the industry. Working with direct sources of seafood, they were able to expand the company's offerings outside of east coast and Great Lakes fisheries. Our offerings brought in seafood from all coastal states and international waters. In working with developing and underutilized fisheries, Charles and Marilyn gained an innovative vision for Euclid Fish Company. As our business grew, so did the industry with its development in sustainability efforts. Aquaculture practices started to emerge in Norway with the Atlantic salmon market, white shrimp in Vietnam and seafood growth in Ecuador. We began visiting sites and understanding aquaculture practices and processes resulting in the shift of our business model.
We have always worked diligently to educate our customers and have never forgotten our early beginnings. The third generation, and now company president, John C Young followed in his grandfathers and father's footsteps by not settling for the same, stagnant business model. John watched the industry develop andw as able to implement and expand the company's core beliefs from his travels and education from his family, mentors and industry trendsetters. John worked all aspects of the business from processing, packing and delivering to buying and selling. He saw the beauty of the seafood industry and the happiness that it brought to customers, knowing that they are supplying responsibly sourced seafood to end consumers. John grew up around seafood by fishing, working, and riding with his grandfather, John Comella. The family would take road trips to Virginia's Eastern Shore to build relationships with farmers and diggers of hard-shell clams and bring back experiences, stories and information that enabled the company to build a community based affair, the Original Chef Comella Clambake. Chef Comella's Original Clambake was started for all seafood lovers in the Cleveland area to enjoy and gather with friends. As John worked with Charlie to build the company, they continued to understand the importance of sustainable fisheries so that wild stock would not become at risk or deplete populations. The family committed themselves by making it their personal responsibility to only source fish from the wild that is marketable size and follow FDA common name and sizing requirements.
As time progressed, sustainability benchmarks became the norm and Euclid Fish took a leadership role in working with NFI and associated boards. In time, the family began to grow and the fourth generation was introduced to the business at a young age. John C and Theresa Young's sons, Charles and John V. started by sweeping, making boxes, processing and packing orders through their childhood and quickly fell in love with the business, the industry and with the varieties of fish and shellfish that came through the warehouse doors. After both attended college, Charles and John V. knew their passion was with the family business. Upon joining the team, they made it a priority to build on the initiatives and progress that the generations before them instilled and to build on the beliefs that sustainability is a responsibility. It was at that point that we became business collaborators with Seafood Watch, built relationships with Fish Choice, sent four members through NFIs Future Leaders program, and as of March 2018, became a part of the Sea Pact Advisory Board.
The fourth generation's vision for Euclid Fish is no different than it was 79 years ago: source, market, and sell responsible products and hold all vendors accountable for full transparency. Euclid Fish Company provides traceable information for all products we source and sell to our wholesale and retail divisions. We have become advocates for managed fisheries and proper catch methods that reduce by-catch, participate in Fishery Improvement Projects, source Fair Trade eco-labeled good, support Best Practices for Aquaculture products, and source Marine Stewardship Certified fishery products along with Aquaculture Stewardship Council approved sites.